CI-1. Walnut Desk with radius raised panel doors, carved pediment, cabriole legs and lacquer finish 50"w x 24"d x 48"t

CI-2. Walnut kitchen island on casters,42"l x 251/2"w x 36"t frame & panel, mortis & tenon construction. All 4 aprons hand carved with lacquer finish. Top solid maple with food safe oil finish.


CI-3. Antique long leaf pine cigar humidor18"l x 18"w x 33"t with Spanish cedar lining. Oil & wax finish outside (raw inside).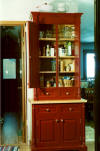 CI-4. Red Oak Pantry with frame & panel and dovetail construction Oil paint outside & oil and wax inside


CI-5. Hickory top breakfast table with hand carved aprons 58"l x 38"w x 291/2"t, oil & wax finish on top, painted & glazed bottom

CI-6. Pine bar table & arm chairs, log home cut-offs oil & wax finish


CI-7. Antique long leaf pine sofa table with pecan top, doors & drawers hand wrought black iron hardware, oil &wax finish


CI-8. Mahogany Hymn board with hand carved cross 18"w x 32"t lacquer finish


CI-9. Ash, hand carved fireplace mantel 66"w x 60"t x 8"d, walnut stain with lacquer finish


CI-10. Spanish cedar garden bench 48"l x 30"t x 18"w




CI-11. Hand carved pine fire place mantle 5 1/2'l x 18"h x 10"d stain with lacquer finish


CI-12. Custom mahogany bench 48"l x 18"w x 24"t with shaped legs & upholstered seat. Medium red mahogany stain & lacquer


CI-13. Walnut computer desk with large file drawers, pull out key board tray and built in power station, lacquer finish 86 1/4" l x 25"w x 31"t



CI-14. Mahogany fire place mantle, hand carved, dark walnut stain 114"t x 90"w x 18"d



CI-15. Rift Oak Round fire place mantle, Lacquer and glazed finish, 60"l x 10"t x 10"d


CI-16. Red oak video cabinet with hand carved beech dinosaur inlays, finished in lacquer, 50"t x 26"w x 16"d


CI-17. Hand carved cedar Santa, dye stained with clear varnish.


CI-18. Break Front cabinet, 50"w x 80"t x 24"d, inset doors & drawers, white catalyzed varnish finish


CI-19. Radius Liquor cabinet on casters, white Birch, light stain & lacquer finish , Laminate top


CI-20. Hickory Hideaway computer desk, top compartment has shelf for monitor & adjustable shelf's on either side, bottom compartment has space for tower & pull out shelf for printer, light stain & lacquer

CI-21. Maple Tap handles with face plates, 9 1/2" x 2", lacquer finish

CI-22. Walnut entertainment center with shelf for VCR & satellite recover, two full extension lower drawers, 6't x 47"w x 35 1/2"d, lacquer finish

CI-23. Mesquite picture frame 39 3/4 x 32 3/4 with carved barbed wire and lacquer finish


CI-24. Cherry picture frame 38 1/2 x 30 3/4 with carved bird & cattails, lacquer finish

CI-25. Mesquite picture frame 42 x 32 1/2 with rope molding and lacquer finish

CI-26. Paint grade bath vanity with inset raised panel doors arched bottom and turned legs, to be fit with a marble top. 50"l x 22'D X 28"t.


CI-27. Cherry Hope chest, 32 different veneers make up the quilt pattern, inlayed name, cedar lined with sliding shelf,50"l x 20"w x 22"t with lacquer finish, cedar lining is unfinished

CI-28. Radius Red Oak fireplace mantle 72"l x 12"t x 12'd



CI-29. Mahogany head board (King) arched top, hand carved roses, fluted posts, turned finials and semi gloss lacquer finish

CI-30. Custom Carved Horses
CI-31.

CI-32.

CI-33.

CI-34.

CI-35.

CI-36.

CI-37.

CI-37.

CI-38.

CI-39.

CI-40.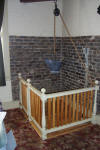 CI-41.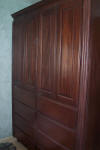 CI-42.

CI-43.